EKG screenings can prevent sudden cardiac death in student athletes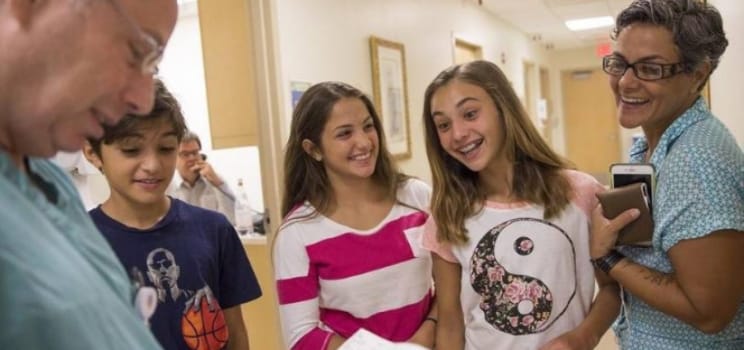 The Miami Herald – July 24, 2015
BY HOWARD COHEN
Christopher Mitchell, a detective in the Miami Beach Police Department, is used to arriving at a conclusion after analyzing each step methodically.
On this issue, however, he has an immediate, heartfelt response: "An EKG is imperative — that that test is performed on all athletes. If Dwayne would have had an EKG, we would have caught it in time and it would have been corrected and we would have avoided all of this."
But the electrocardiogram (EKG), a simple, fast and painless test of the electrical activity of the heart, is not a recommended automatic test for the estimated 10 million or so high school and college age athletes, like Dwayne, who undergo physicals before playing in team sports.
Those who oppose mandatory screenings, like the American Heart Association, cite the cost for such a program, said to be about $2 billion per year to start up, and the potential for false readings that can lead to unnecessary testing and anxiety.
This, Mitchell says, is untenable.
His 18-year-old son Dwayne, a senior and football player at West Kendall's G. Holmes Braddock High School, was at his grandmother's house in May when, after a series of unusually loud coughs, his heart stopped beating. He went into cardiac arrest and slipped into a coma.
Since May 16, Dwayne has been in long-term care at Promise Hospital in Miami Lakes, his improvement measured in "baby steps," his father says. Two months later, Dwayne can open his eyes and leave them open for a bit. He can't communicate yet — too early, a neurologist told his father. But he can react to some commands from his doctor. "He's slowly coming around," a vigilant Mitchell says.
"I don't wish this on any parent at all," he adds. "A simple EKG can avoid a catastrophe."
Tragic cases
Dwayne, doctors learned, has a heart condition called Wolff-Parkinson-White syndrome, which means an extra electrical pathway of the heart that can lead to periods of rapid heart rate (tachycardia). His condition had gone undetected. Still, he is one of the lucky ones because he's still fighting and his family, which includes his mother, Shantell, and three siblings, are hopeful and a familiar presence at his bedside.
But Breanna Vergara's family lost their 11-year-old daughter on Dec. 9, 2014, when she collapsed during ballet practice at Miami Dancity Studios in Miami Lakes. She died and her parents Claudia and Jesus Vergara learned she had Wolff-Parkinson-White syndrome, which can be detected by an EKG and cured. The Vergaras formed the Breanna Vergara Foundation to raise awareness and encourage parents to have their children tested.
Also, on June 29, 10-year-old Laura Palma died playing soccer after going into cardiac arrest at Queens College Summer Camp in New York.
There are about three deaths out of every 100,000 student athletes in the United States every year, said Dr. Carlos Zamora, director of Mount Sinai's sports cardiology program.
Advancements outpace testing
Zamora, who is treating a 17-year-old boy who began having palpitations and shortness of breath while playing high school football, says screenings haven't changed much since the 1980s and haven't kept pace with significant advances in health care in the last 35 years. The 12-step questionnaire recommended by the American Heart Association (AHA) is pretty much the standard test kids face before hitting the field.
Generally, this means student athletes will be asked about their family history, whether they have experienced chest pain or discomfort, and will receive a blood pressure test and be checked for heart murmurs.
"The number one cause of death in those athletes are what we call hypertrophic cardiomyopathy, a genetic condition that can be pretty easily identified in an EKG and may, or may not, have symptoms. Sometimes the first symptom can be a sudden death event," Zamora says. Hypertrophic cardiomyopathy is a disease by which the heart muscle becomes abnormally thick, making it harder for the heart to pump blood.
The AHA doesn't oppose EKG testing of student athletes. "Screening to detect cardiovascular disease in athletes is supported in principle by the AHA," the organization said in a statement following a 2014 study on EKG screening endorsed by the American College of Cardiology Foundation.
But, "The AHA does not support national mandatory screening EKGs of athletes, because the logistics, manpower, financial, and resource considerations make such a substantial program inapplicable to the U.S. healthcare system. Individual quality-controlled local, community, or student-related initiatives were, however, supported by AHA if conducted properly and with adequate resources."
Free EKG screenings
Dr. Anthony Rossi, a pediatric cardiologist at Nicklaus Children's Hospital, thinks that position is not enough to protect children and encourages EKG screenings, which can cost $50 or less. Rossi, with the hospital's blessing, has committed to performing free EKGs for children. The Nicklaus EKG program, available by appointment at no cost to patient, has been policy since 2012.
"Many problems can be treated regularly and we can eliminate the risk or cure them," Rossi said. "Apparently, there is a lot of buzz in the community because of this little girl, Breanna Vergara, who died in a dance studio about seven months ago and apparently had Wolff-Parkinson-White syndrome. And the tragedy of that is that is a disease we cure every day. We do about 100 ablations a year for Wolff-Parkinson-White. We make that diagnosis, then we can do a procedure and cure you and once you are cured you are back to the athletic field."
The Pena family of Westchester took Rossi's offer of free EKGs to heart.
Mabel Pena insisted on testing her children Samantha, 13, and twins Zachary and Sabrina, 11. "We come from parents, grandparents, great-grandparents, all down the line, with heart failures and so forth," she said. "These issues can occur at any point in time and you don't have to be 30 to have an issue."
On a recent afternoon, she brought her kids to see Rossi for EKGs. Zachary, a basketball and football player, began his EKG screenings at age 9 after feeling faint on the field. Turns out it was a result of asthma and the South Florida heat but, mom feels, it is better to be safe.
"Free EKG screenings, for me, are wonderful. It's long overdue," Pena said. "This should be included in all competitions and mandated that they go through this. It's hot in Florida and they can detect conditions."
Follow @HowardCohen on Twitter.