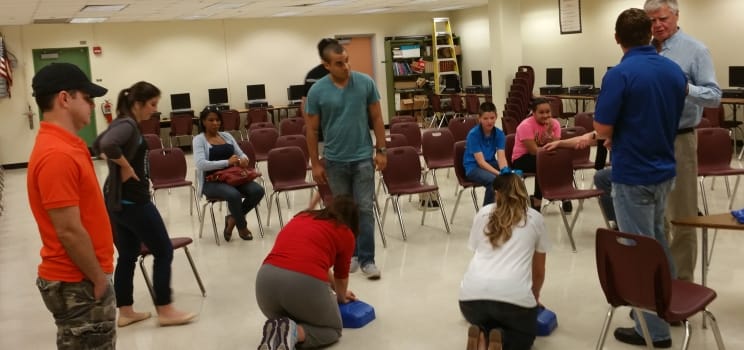 Increasing awareness on the importance of early intervention and ensuring greater public access to defibrillation will save many lives. By facilitating CPR Certification and AED Training courses, The Breanna Vergara Foundation is helping educate the general public on how to effectively respond to medical emergencies.
Cardiopulmonary Resuscitation (CPR) is a life-saving technique, useful in many emergencies. When a person goes into cardiac arrest, survival greatly depends on that individual receiving CPR immediately. If performed within the first few minutes of cardiac arrest, CPR can double a person's chance of survival. By administering chest compressions with artificial ventilation, this emergency procedure can manually preserve intact brain function until more definitive medical treatment can restore a normal heart rhythm. If you are called on to administer CPR in an emergency, you will most likely be trying to save the life of someone you love: a child, a spouse, a parent, or a friend. An Automated External Defibrillator (AED) is a portable, electronic device that automatically diagnoses the life-threatening cardiac arrest and through defibrillation (electrical therapy which stops the arrhythmia), re-establishes the heart's functioning rhythm. With simple audio and visual commands, AEDs are designed to be easy for the layperson to use. Approximately 70% of out-of-hospital cardiac arrests happen in homes. Unfortunately, only an estimated 46% of people who experience an out-of-hospital cardiac arrest receive the immediate assistance that they need before professional medical aid arrives. Fast action saves lives, and our mission is to help you help others.
If you are interested in registering for an accredited first-aid course, which includes CPR certification and AED training, please contact [email protected].