Family urges parents to get EKGs for active kids after sudden death of daughter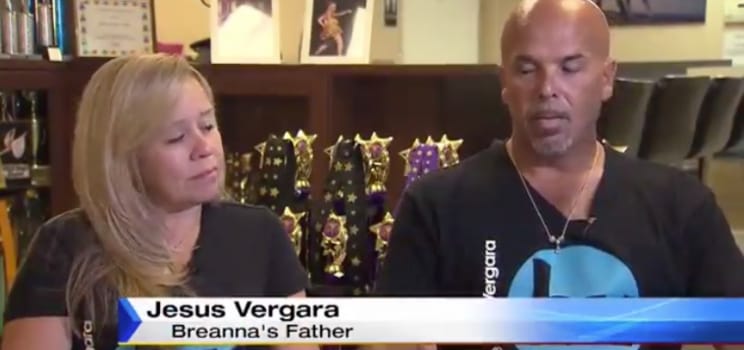 WPLG Local 10 ABC News – June 25, 2015
MIAMI – A South Florida family is urging parents to get EKGs for their children after their eldest daughter, Breanna Vergara, 11, collapsed during dance practice last year.
"I got a call from the studio that they needed me to hurry up and get here," Breanna's mother, Claudia Vergara said.
"I was calling her name and she wasn't reacting," said Breanna's dance teacher, Yvonne Alvarez. "I grabbed her, and as soon as I grabbed her she fell to the floor."
Claudia Vergara, said her daughter died Dec. 9 from pre-excitation Wolff-Parkinson-White syndrome.
She said the congenital heart defect is curable when it is detected with an EKG, and deaths caused by the syndrome are rare.
In Breanna's case, the defect did not go away as Breanna grew up, as it sometimes does.
Since her death, Breanna's parents said they know four children who have the same condition, including one of Breanna's best friends. Claudia Vergara said one of the children is a teenager and the other three are under 11 years old.
"I'm hoping that this saves many more lives," Breanna's father, Jesus Vergara said.
"An EKG or ECG is an electrocardiogram. It is a painless test that checks the electrical activity of your heart and can detect problems," Claudia Vergara posted to the Breanna Vergara Foundation Facebook page. "All children who are participating in sports should be getting an EKG along with their physical every year."
Nicklaus Children's Hospital offers free EKGs to all middle and high school athletes. Interested parents are welcome to take their children to the main hospital or any of the eight outpatient centers in Miami-Dade, Broward and Palm Beach County.
To schedule an appointment for a pediatric EKG test, please call The Heart Program at Nicklaus Children's Hospital at (855) 624-3547.
Claudia Vergara said the hospital is now also offering free EKGs to younger children in the dance community.
Miami Dancity Studios, where Breanna's younger sister still dances, has made EKGs and physicals mandatory for all of its competition dancers.
Follow Local 10 News on Twitter @WPLGLocal10
Copyright 2015 by Local10.com. All rights reserved. This material may not be published, broadcast, rewritten or redistributed.